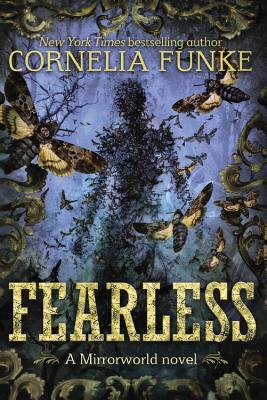 Title : Fearless (Mirrorworld#2)
Author : Cornelia Funke
Publisher : Little, Brown and Company
Published : January 2013 (International Edition)
Page : 424 pages
My Rating : 5/5
Jacob Reckless has only a few months left to live.
He's tried everything to shake the Fairy curse that traded his life for his brother's–legends such as the All-Healing Apple, the Well of Eternal Youth, the blood of a northern Djinn. And yet hope after hope is extinguished. After months of fruitless searching, Jacob journeys through his father's mirror one final time to deliver the bad news to Fox.
But there they hear of one last possibility–an item so legendary that not even Mirrorworlders believe it exists: a crossbow that can kill thousands, or heal one, when shot through the heart. But a Goyl treasure hunter is also searching for the prized crossbow. Jacob must find it first–and somehow convince Fox to do whatever it takes to save him.
Thought on this book :
Wow, Fearless, wow. For my love of fantasy and fairy tales shall this book became an oase to my thirst.
Wow Cornelia Funke I'm no wrong declaring you as (one) my favorite words-weaver ever. THIS IS ABSOLUTELY BRILLIANT. Amazing. Everyone should dig into the awesomeness of this book.
Okay, the real review.
So I picked the first book of Mirrorworld series in it's Indonesian Edition (didn't do proper review, tho. Too lazy to make it, I'm sorry. But you can go here for Reckless's reviews) and loved it so much and now I got an International Edition of the second book. But back then, I didn't give Reckless 5 stars because I felt there're some gaps to the story and the lack of characterization. Since then I hope that the second book will turn better than Reckless.
It did. This book wayyy much better than the first one. The story following after Jacob got the curse for saying the Dark Fairy's name for the sake of rescuing his brother from Goyl-form. He's dying from the Fairy's curse and searching for the cure in the Mirrorworld. He was accompanied by Fox throughout his adventure and Madam Funke did a pretty awesome job knitting and exploring their relationship. The characters were much alive and developed that got me caring to them. Fox's back-story got explored so well in this book, the reason she's keeping her fur close and also how she's growing to realize that the fur actually not more important to her than Jacob.
I also love how Madam Funke set Bastard as rival to Jacob. Bastard is not really lovable character but I found it pretty easy to read his part. We also got Louis and Lelou, they are so much fun companion to Bastard (The bickering and Louis's snobbish short-mindedness, lol). The competition between Jacob and Bastard was very enjoyable to read. Every chapter was a real excitement and it supported by a very elegant and beautiful, yet dark and witty way to tell a fairy-tale. Cornelia Funke rocks in this league. Can't find anyone who really wrote magically and beautifully as her (for now).
I can't wait to read the third book! The Earlking made me curious so much. Who's he? I couldn't help to read his name as Oberon King Lear, tho. Funny pun, Madam. Lol. Beside that, I also want to know more about Jacob's past. Err, not, maybe it's just his father.
PLEASE PLEASE CORNELIA FUNKE I LOVE YOU THE THIRD BOOK'S GONNA BE RELEASED IN OCT (But should be waiting until 2015 to read it. Yeah International Edition Yeah)