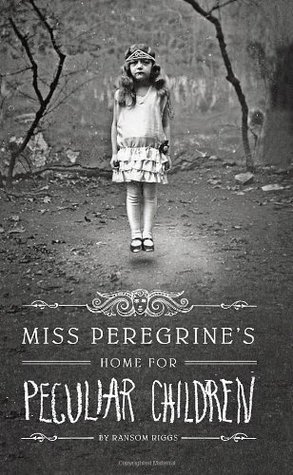 Title : Miss Peregrine's Home for Peculiar Children(#1)
Author : Ransom Riggs
Publisher : Quirk
Published : June 2011
Page : 352 pages
My Rating : 3/5
A mysterious island. An abandoned orphanage. A strange collection of very curious photographs.
It all waits to be discovered in Miss Peregrine's Home for Peculiar Children, an unforgettable novel that mixes fiction and photography in a thrilling reading experience.
As our story opens, a horrific family tragedy sets sixteen-year-old Jacob journeying to a remote island off the coast of Wales, where he discovers the crumbling ruins of Miss Peregrine's Home for Peculiar Children. As Jacob explores its abandoned bedrooms and hallways, it becomes clear that the children were more than just peculiar. They may have been dangerous. They may have been quarantined on a deserted island for good reason. And somehow—impossible though it seems—they may still be alive.
A spine-tingling fantasy illustrated with haunting vintage photography, Miss Peregrine's Home for Peculiar Children will delight adults, teens, and anyone who relishes an adventure in the shadows.

I don't have any big expectation before reading this book, really. It was an instant pick when I saw this creepy-looking book sitting on the shelf of my favorite bookstore last week. Usually, I would look into goodreads first when I buy books, but this book is exception. Maybe because of the blurb in the back of the book. Maybe because its grim cover. Maybe because the 25% discount.
The story started with Jacob narrating about his grandpa's story about a home in an island where his grandpa grew. His grandpa also showed him some photographs which are peculiar, and told him about some strange story regarding those photographs. Later, Jacob started to doubt his grandpa's story, thinking it as another fairy tales his grandpa made up.
But with his grandpa's strange death, he came to believe that was not another fairy tale….
Let me divide this book into 4 parts.
The first part, the part that got me excited about this book. Creepy children photographs, grandpa's strange death and Jacob's nightmares about monster made me think ,"wow a real horror!". The premise was interesting. Who could not love an isolated island where the smell of antiquity still lingering?
Jacob was an okay character. I could understand his confusion. But I liked his determination to find more about his grandpa's mysterious past. That made me grow curious, too. I really enjoyed the mystery of this island and of course about the home where grandpa's spent his childhood.
The second part.
Just meh. It's a bit draggy. It could not keep me glued to the book. I put the book for a day or two, because it rather bored me. The revealing of the peculiar children didn't make me stay. Also, the appearance of the romantic sparks rather bothered me. I don't know why, maybe because I found it strange regarding Jacob and Emma's relationship (yes, her name's Emma). And yet, there's no lead about the villain apart from the grandpa's murderer (and that's all).
The third part
The villain's finally appeared! That took quite a long time. But I really excited throughout this part. There're some surprises I didn't anticipated. The thrill is finally back to this book and it made me very happy. Until I came to the last part…
The last part isn't that bad, actually. But it's far from my expectation after reading through the book. So… yeah, not really an amazing execution but still a very good story overall. The idea was promising, and there are no really annoying characters.
About the writing, I have nothing to complaint. The author did a great job of uniting the story and the photographs so that the story itself feels so much alive. Should grab Hollow City as soon as possible!