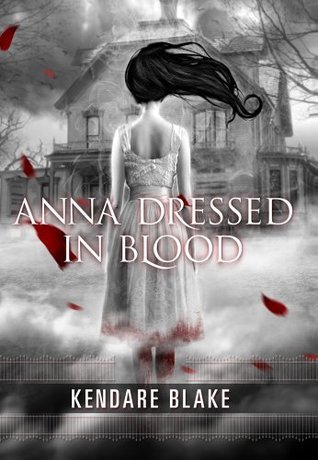 Title : Anna Dressed in Blood (#Anna 1)
Author : Kendare Blake
Publisher : Tor Teen
Published : August 2011 (ebook)
Page : 387 pages
My Rating : 4/5
Cas Lowood has inherited an unusual vocation: He kills the dead.
So did his father before him, until he was gruesomely murdered by a ghost he sought to kill. Now, armed with his father's mysterious and deadly athame, Cas travels the country with his kitchen-witch mother and their spirit-sniffing cat. They follow legends and local lore, destroy the murderous dead, and keep pesky things like the future and friends at bay.
Searching for a ghost the locals call Anna Dressed in Blood, Cas expects the usual: track, hunt, kill. What he finds instead is a girl entangled in curses and rage, a ghost like he's never faced before. She still wears the dress she wore on the day of her brutal murder in 1958: once white, now stained red and dripping with blood. Since her death, Anna has killed any and every person who has dared to step into the deserted Victorian she used to call home.
Yet she spares Cas's life.
Thought on This Book :
"…. She's Bruce Lee, the Hulk, and Neo from The Matrix all rolled into one." Cas about Anna.
Mannn this book does scare me. Of course, because I read this through the night and now I'm not sure if I'm in my right state of mind, but whatever. I'll try to share a story.
When I was in elementary school, I did a lot of ghost thing. Say, I was a dreamer and always fantasize meeting with ghost or do some exorcise. We have this group of friend and we started to do the most freaky, stupidest thing I ever did. We called for ghost with doing the ritual called Jelangkung after the school hour. It's pretty popular myth here, when you called for it while holding a puppet doll, something voodo-ish and chant the spell, then the spirit will drive a person's hand to write down answers to questions we asked .
Did the ghost ever appeared?
We didn't get to know, because when the wind started to blow fiercely, we threw and tossed everything and ran for our poor scared selves.
Well, to the Anna Dressed in Blood, which is also have a little thing to do with voodoo, and certainly a whole book deals with ghosts.
This book was terrifying. This book was good. I never imagined the day I fall in love with a paranormal romance novel (y'know, I used to think all pararom are just like Twilight, so I don't even give a try). But Kendare Blake make it comes true with her writing.
This book is different. The protagonist, instead your usual weak girl needed protection and all, is actually a boy. Meet Cas, he is seventeen years old and an ghostbuster ( he doesn't like called that, but who cares. He's a ghostbuster for me). He kills dead people, or in other words, he kills the ghosts. He took jobs in killing ghost all over the country while preparing to avenge his father's death with his white witch mother.
"Just what this town needs : another goddamn weirdo. If your mom's a witch, what does that make you? Harry Potter?"
Dear god I'm laughing so hard. Oh the meta.
Cas is awesome, smart, strong and freaking funny and knows his limits. I can't believe I still got scared even with his narrating. I laughed throughout the whole book reading his voice but also the way he describes the horrors and gory part, well, I almost screamed. No, please don't judge me. Do I need to remind you that I was reading this in the midnight? (#You already said that)
And of course we have Anna. Anna. I really like the name, by the way. I was like Cas when I first read her name. Anna Dressed in Blood. There is something beautiful and dreadful in her name. But the point, Anna is uberly–awesome. She's fierce and terrifying and scary and sad little girl and then, she's lovely. We have no heroine with disoriented mind but here we have a goddess of death dressed in her blood-stained dress who stabs her hand to chest and ripped person into two, literally.
I love Cas I love Anna I love Carmel I love Thomas I love Morfran I love Cas's mom. Nah, I love almost all the characters here. I used to hate Carmel because she is the popular girl. We'll expect her with no brain but she's brave and she's not doing romance with Cas so I like her even more as I went with the story. Thomas is cute, that witch boy, seems annoying at first but he's the best friend here. Cas's family is interesting, with all the occultism surrounded. His mom is awesome, and I believe so was his father.
Anyway, half first of this book was totally horror and scary. Action-packed and solid, I would say. We get many corpses and ghost with terrible bodies. We get gore parts with insentines falling from the torso and black liquid -blood of the ghost, yikes. We also have to face the wrath of Anna and how to defeat her.
This book could be a five star book for me if only the second half is equally thrilling. Sadly, no. Instead of horror, we get romance and friendship here. Not so much, but certainly the romance sparks is here. But I'm okay. The romance is tolerable and I even like this strangest couple walking on the earth. No love triangle, which is good, because all pararoms (young adult) nowadays tend to have this in their story, and it's sicking.
The writing, oh, the writing is so refreshing. Cas's voice for narrating is all that I need. His sass really made my day and cracked me up. Kendare Blake is gifted one. She brings ghost story in a whole new level for me.
Yes, favourite line has to be this one :

Now I have to do something with my eyes after staying all the night, and I'm so sleepy.
PS : Have you read Anna series, by the way? I'm kinda late, am I?
Cheers,
Ra
Part of : NARC 2015 – What's in a name.