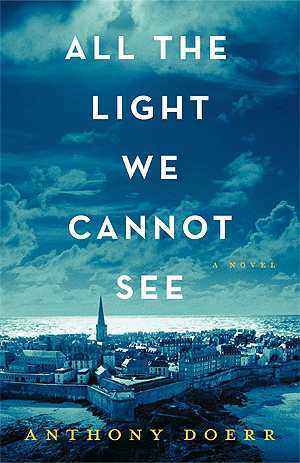 Title : All The Light We Cannot See
Author : Anthony Doerr
Publisher : Scribner
Published : 2014
Page : 530 pages
My Rating : 4.5/5
Marie-Laure lives with her father in Paris near the Museum of Natural History, where he works as the master of its thousands of locks. When she is six, Marie-Laure goes blind and her father builds a perfect miniature of their neighborhood so she can memorize it by touch and navigate her way home. When she is twelve, the Nazis occupy Paris and father and daughter flee to the walled citadel of Saint-Malo, where Marie-Laure's reclusive great-uncle lives in a tall house by the sea. With them they carry what might be the museum's most valuable and dangerous jewel.
In a mining town in Germany, the orphan Werner grows up with his younger sister, enchanted by a crude radio they find. Werner becomes an expert at building and fixing these crucial new instruments, a talent that wins him a place at a brutal academy for Hitler Youth, then a special assignment to track the resistance. More and more aware of the human cost of his intelligence, Werner travels through the heart of the war and, finally, into Saint-Malo, where his story and Marie-Laure's converge.
Doerr's "stunning sense of physical detail and gorgeous metaphors" (San Francisco Chronicle) are dazzling. Deftly interweaving the lives of Marie-Laure and Werner, he illuminates the ways, against all odds, people try to be good to one another. Ten years in the writing, a National Book Award finalist, All the Light We Cannot See is a magnificent, deeply moving novel from a writer "whose sentences never fail to thrill" (Los Angeles Times)
Thought on This Book :
The aftermath of reading this book :
"Stones are just stones and rain is just rain and misfortune is just bad luck."
Thinking back to the moment when I finished with All The Light We Cannot See, honestly I feel so sad. I have so many mixed emotions towards this book. It's to the point where I can't even organize and write down my thoughts. I did write some point, but then the review was completely forgotten because school caught up.
At first, I thought this book is a bit of bore. I read for like three chapters and stopped. I put it down and forgot it for about four months before I decided that I should finish this book no matter what. Sure it started rough for me because it's so slow but I felt so relieved that I decided to give this book another chance. It's truly worth all the praise. It's haunting and beautiful at the same time. It gave me book hangover for like two weeks.
Told in a parallel way, All The Light We Cannot See share stories of people around the event in World War II, particularly concerning The Siege of Saint Malo. The story circled around two main characters. Marie-Laure; a blind girl, a Parisian, a daughter to the Museum's head locksmith. When the German started to take over Paris, Marie-Laure and her Father flight to Saint-Malo, where they stayed in her great-uncle's house.
The other one is a boy named Werner; a genius but poor boy who then became radio engineer for the German army. Werner is gifted in science, he's skillful in radio, and once had a dream of becoming a great scientist like Hertz. When his team was tracking down radio signal in Saint-Malo, his fate collided with Marie-Laure's. There are also pieces with other people's story, and all these stories are mainly triggered by the existence of Sea of Flame, a valuable jewel in Museum's possession.
The story is moving at a slow pace, with rich sentences and metaphors. It told us the story in the shape of beautiful prose. It overwhelmed with all those description and lacks of dialogue. The description is so vivid, so clear and not only presented the scene in the book, but also delivered the situation through our five senses. Nevertheless, I really appreciate the writing, although at some point it gets too boring. It's maybe one of the most beautiful writing styles I ever read.
And now that I'm writing this, I remembered that I also get The Book Thief vibe. Not gonna compare them, but maybe because both set in World War II I think that somehow I got the vibe. The amount of description which dominated both books also kinda similar, I think. But that's all, and I like both anyway.
All The Light We Cannot See gave me so much feelings. When I finished the book, I just stayed still for like ten minutes or so. I didn't cry. It's sad but strangely I didn't cry. It's a kind of sadness which makes you feel so hollow inside. It's a heartbreaking story; a tale of how ugly is war, how ugly human's greed can turn be. Anthony Doerr is indeed a good writer. How he poured and presented all kind of knowledge and coated them in alluring writing, it's charming.
You know the greatest lesson of history? It's that history is whatever the victors say it is. That's the lesson. Whoever wins, that's who decides the history. We act in our own self-interest. Of course we do. Name me a person or a nation who does not. The trick is figuring out where your interests are."
I couldn't say that this book is for everyone, though. If you don't like excessive description, or if you look for a book packed with action, this book isn't exactly for you. But if you enjoy something slow and poetic diction, or if you enjoy something like The Book Thief, gave it a try. This book requires some amount of patience, though (in my case), but don't give up halfway!
Ra.